Subscribe Here And Now To My Idea-Filled E-Newsletter: "2-Minute Monday Motivator"  (It's Free!)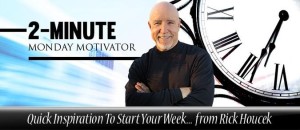 Specifically for ambitious leaders, high achievers, aggressive change agents… and those who aspire to be.
(If not one of those describes you, please don't sign up.  The content will not interest you.)
"2-Minute Monday Motivator" is a short-and-sweet, single-subject message that kick-starts your week with a jolt of adrenaline. Subjects deal with business growth, leadership and manager effectiveness, personal improvement, winner behavior, self-motivation, and life transformation… and can be read in a couple minutes. Action points are identified and can be put into play immediately.  It's emailed to you every Monday.
Sign up now and also receive a copy of my new eBook:
7 Stimulating Strategies To Invigorate Your Life
Oh, and did I mention… it's FREE!  Please fill in your name and email address below.
Fear Not:  My subscriber list is confidential, never shared or sold, and you can unsubscribe at any time.
And for trouble-free reception, be sure to add [email protected] to your White List or Safe Sender List.
Yes, Sign Me Up: